Dale Underwriting Partners (Lloyd's syndicate 1729), based in London, has partnered with insurance software developer Covernet on a new multi-cover product for the sports and leisure industries. Northern Ireland-based Covernet has developed a software insurance management platform for the independent underwriter's new product, aimed at sports clubs, coaches, federations, events and the leisure industry.
The new digital portal was designed and delivered by Covernet via its fully-hosted, web-based ISMIS platform, which provides full cycle support to allow brokers to quote and bind policies, and issue their documentation, as well as providing a hugely functional back office system for the underwriting team at Dale.
Covernet MD Lee Stuart said: "We designed the new sports and leisure product software to Dale's exact requirements, optimising risk submissions to maximise straight-through-processing, with no touch from the underwriting team.
"Developing a unique algorithmic rating engine to calculate premium and ensure underwriting qualifying criteria are met, ensures a swift service for brokers, and maximises the value of the underwriting team's time."
For more complex risks, custom broker submissions can also be processed through the digital portal to Dale's underwriting team for review and pricing. Underwriters can also carry out complex adjustments and apply tailored endorsements to the policy, while enabling the broker to issue the risk and download pdf policy documentation from within the digital portal.
The platform also provides Dale with built-in modules, allowing them to manage their broker and insurer accounts across multiple currencies, producing Lloyd's format bordereau reports and integrating with Dale's existing data warehouse and MI solution.
Covernet's CCO Jim Campbell said: "It's been a pleasure working with the team at Dale Underwriting to develop and launch an exciting new sports and leisure offering on the ISMIS platform.
"The underwriting team's innovative product design was perfectly suited to the Covernet team's ability to build complex bespoke insurance offerings into our ISMIS digital platform – we are sure it will be popular with brokers for its ease of use, and functionality."
Dale Underwriting's sports and leisure product includes a range of cover for organisations within sport, leisure and events, including public and product liability, professional indemnity, as well as employer's liability, personal accident, and kit and equipment.
Dale casualty underwriter Chris Hootton added: "Our ability to deliver first-class products quickly, efficiently and with minimal manual processing is a key differentiator in an increasingly competitive marketplace. Covernet's platform enables us to do all that, while also providing us with the all-important data analytics that are needed to inform our reporting, manage our broker relationships and monitor overall portfolio performance".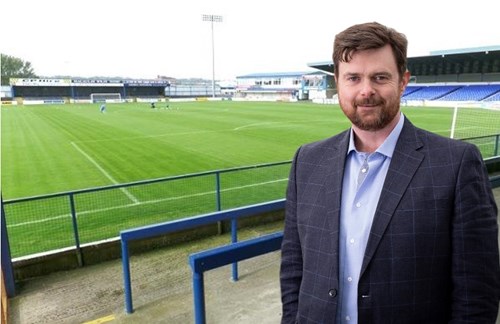 Pictured above Covernet CCO Jim Campbell at the firm's local football club Coleraine FC.