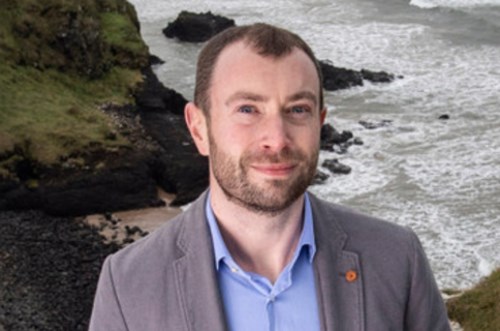 Name:  
Lee Stuart 
Job Title:  
Managing Director
Service time with Covernet:
17 years 
Education / Career journey:  
I chose to do Modern History at Queen's University Belfast, at the time I had no idea what I wanted to do in life. History was my favourite subject and the one I was best at, so I went with it. 
After graduating I went travelling and lived abroad, working anywhere that would pay me so that I could keep travelling.  
I began to look for a skill that would mean I could work anywhere in the world and live comfortably.  I'd noticed the rise of the internet and found myself being interested and excited by it, so knew I would be driven by that in any studies involving it.   
I chose to return home and do a Masters in Computing and Information Systems at University of Ulster.  I loved every minute of it. 
How did you become part of Covernet team? 
Well, a few weeks into my Masters the DotCom Bubble burst and whereas in previous years' companies were signing up students before they had even graduated, sadly the jobs simply disappeared it and remained that way for a long time. 
7 months after I finished my Masters my Mum sent me a tiny clipping from my hometown newspaper 'Software Developers Required', from a company called Cover.Net. I'm looking at the clipping now, along with the 12 pages of interview notes I made when I got called to interview.  I wasn't letting this chance get by me! 
I began as Graduate Software Developer in March 2003. I thought I would be there for around a year, get some experience and then be off travelling again.  But I got the bug and here I am 17 years later. 
What does a typical day hold for you? 
I'm very lucky to live just around the corner from the office, so I can get up at around 7:30am, have breakfast and be behind my desk for 8:30am. 
After catching up with emails it's a stand-up with the management team to hear what is going on and give any advice they need. 
As Managing Director the main aspect of my role is defining and driving the strategy across the business and our technology. It will sound like a cliché for an article such as this, but at Covernet we have a culture of always trying to improve and innovate, and we'll do it our own way.  To that extent my brain never stops! 
We're doing a lot of recruiting at present and I'm still involved in that.  I will sit in on every interview and give each candidate a presentation on Covernet and our plans for the future.  It doesn't seem that long ago I was that nervous graduate coming for interview and I feel it is important to show that we are a company where everyone is welcoming and all levels of the Team work together. 
After work it's the gym and hopefully a good box-set that I haven't watched yet…… 
What do you enjoy most about the job? 
I have the opportunity to build the company I always wanted to work for, something I am very grateful for. 
 I enjoy the continual technical change and I get a real sense of pride with the feedback we get from our clients. 
More than anything though it is seeing our people progress their skills and careers, and hearing that they enjoy working here.  Also giving graduates the opportunity for an exciting career on their own doorsteps.  I remember too well the lack of opportunities and how that felt when I graduated. 
What do you attribute to your career success to date? 
If you're passionate about what you're doing and believe in it then the other aspects that drive success in any role will come easily.  Those being hard work, dedication and always trying to make things better.  
I'm also a big believer in treating people how I would want to be treated myself. 
Who is your role model in business? 
I don't think business should be any different to life in general - take your inspiration and aspire to be like the people that you know and respect for being honest, respectful and kind.   
If that doesn't work for you in business you're in the wrong one. 
What is your greatest passion outside of work and family? 
I'm a big believer in exercise and try to as much as possible.  I'm blessed to be healthy and know that won't always be the case so will be active while I can. 
Describe yourself in 3 words. 
Writes too much.