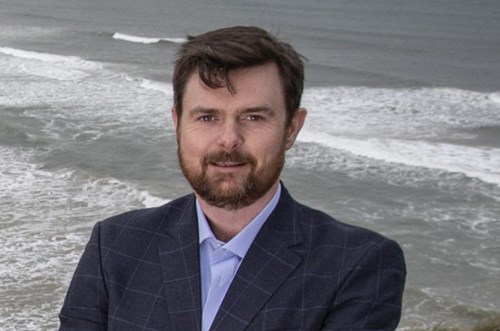 Name: 
Jim Campbell 
Job Title: 
Business Development Director 
Service time with Covernet:
9 years this month, I'm relatively new in Covernet terms! 
Education / Career journey:
I studied English Literature and History at the University of Glasgow, primarily because I wasn't 100% sure what I wanted to do at that stage in life. I really enjoyed both subjects at A Level, I liked the combination of reading and critical thinking they required… That and the fact there were only about 4 hours of lectures a week greatly appealed to me! 
Once I got my MA, I started looking for something more vocational, and found that Glasgow also offered a really good 1 year MScIT conversion course which I applied for. The course was fantastic, but also a real shock to my system, I went from never having sent an email, to programming in Java overnight. It was a steep learning curve, but everyone on the course was in the same boat, and the camaraderie in the labs was great. Many late nights were spent trying to get projects to compile and run. 
My first job after completing my MSc was for a new start up Telecoms company in Dublin, there were only 4 of us, and again it was a fantastic learning curve as I got immersed in all aspects of professional software development.  
Unfortunately the dotcom bubble burst, and so did the company, so I moved back North and worked in Allstate, where I got my first experience in Insurance Software, and working in a larger software organisation. 
I met my future wife, and moved over to London where she was based, starting a job in Barclays Capital (Now Barclays Investment Bank) in Canary Wharf. Again working as a software developer in a small team, but within a large organisation. At BarCap I was promoted several times, and gained my first experiences with team management, staff recruitment, project management and managing the customer relationships for the team. It was during very exciting times, the onset of the credit crunch, just when BarCap bought out the much larger Lehman Brothers bank. I ended up in a role merging the technical teams and systems between both banks and travelling between London and New York. 
How did you become part of Covernet team?
After kids came along, my wife and I both realised we didn't want to stay in London, and looked for opportunities to move closer to other family members. In the end I won the argument and we moved back to the North Coast of Northern Ireland.  
At first I continued in Investment Banking and took a management job at Citi in Belfast, but soon realised that the commute from the North Coast meant I had less time with the family than I did in London.  
I didn't realise there were any software jobs closer to home, but I bumped into a girl that used to work at Allstate, who mentioned she worked for a company based in Coleraine; that night I sent Covernet a speculative email with my CV, and fortunately the team invited me in for an interview. I joined as a Software Developer, and have thoroughly enjoyed my time here. 
What does a typical day hold for you?
My days are hugely varied; I'm normally engaged in a mixture of new business development, working on presentations and proposals for new clients, managing the client relationships with existing clients, and engaging with the Development Management team to ensure that projects are planned and developed as per client expectations.  
On a more strategic level, I'll be working with Lee to achieve our business plan, managing the implementation of process improvements and innovations that we see as key to the continued growth of Covernet.  
I'm also responsible for managing the relationship with our marketing team as they help us define and refine our marketing strategy; and take responsibility for heading up our recruitment engagement, so there is likely to be an element of one or both of those also in the mix. 
What do you enjoy most about the job?
The variety of activities I'm engaged with, and the people I work with, both in Covernet, and the client organisations we get to work alongside. I also like the coffee van. 
What do you attribute to your career success to date? 
Hard work, and sticking my hand up at the right time. I have been lucky to have worked with great people throughout my career, and been supported by a fantastic family and network of friends. 
Who is your role model in business?
I don't have any specific role model. I like meeting individuals at all levels in many businesses. Those that I admire the most are passionate about what they do, and 100% invested in continually improving, even if they are at the top of their game. 
What is your greatest passion outside of work and family?
The North Coast, I love living and working here. 
Describe yourself in 3 words.
Tall, dark and hairy.