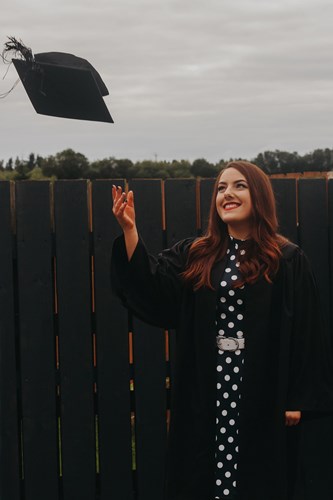 Name:  
Jessica McMullan
Job Title:
Graduate Software Developer
Service time with Covernet:
3 months
Education / Career journey:
After 4 years, I recently graduated from Ulster University Magee with a BSc Hons in Computer Science. My graduation was definitely a different one due to Coronavirus however I was extremely grateful to have a quiet celebration with my family to commemorate the occasion.
How did you become part of Covernet team?
I was applying for jobs during my final year and a recruitment agency got in touch, saying they had the perfect company for me. I had already heard great things of Covernet from a family friend who is also an engineer in Coleraine and once I started to research the company more, I decided it seemed like a very friendly and warm working environment.
What do you enjoy most about the job?
I enjoy the opportunities I am given to expand my knowledge of programming and the inner workings of the ISMIS and Prestige systems. I also enjoy the general experience of being part of the Covernet team, even though I have started my job remotely, everyone has been extremely accommodating and helpful in my training as a graduate developer.
What is your greatest passion outside of work and family?
Other than my family, friends and work I would say my greatest passion would have to be my love for animals. I currently own a dog, cat, tarantula and bearded dragon and on a daily basis I have to be talked out of getting more reptiles. Also, in my spare time I also love to upcycle old, second hand furniture.
Describe yourself in 3 words.
Caring, Hardworking and Enthusiastic