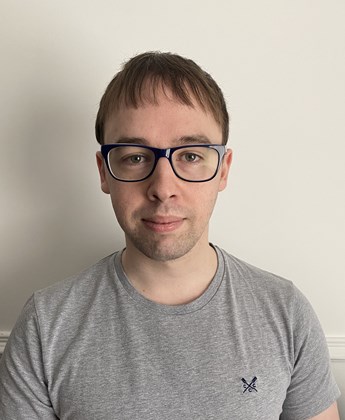 Name:
James Taylor
Job Title:  
Software Developer
Service time with Covernet:
3 and a half years
Education / Career journey: I studied Computing Systems at Ulster University in Jordanstown, whilst working as a Sales Advisor in Moores of Coleraine. After graduation, I joined FDM in Leeds to complete a graduate training scheme in Software Development.
How did you become part of Covernet team?
I found Covernet when I was researching software development companies, I emailed my CV to info@cover.net and enquired as to whether there were any roles open.
I was invited in for a technical test, followed by an interview.
I had a few job opportunities in the in the pipeline, but was impressed by the presentation given during the interview process, which made the decision to accept the job offer an easy one. The rest is history.
What does a typical day hold for you?
Since we've started working remotely, more often than not my day now starts with a run around the forest or a cycle. Previously it would have started with a lie in until 8:15am, as I'm only a few minutes away from the office!
I start the working day by checking my emails and prioritising a list of tasks that require action. Each morning, there's a video call with the rest of team for any news or announcements and to hear what projects other team members are working on.
I'll then continue on with my development jobs scheduled in for the week - which usually involves coding, testing and documenting any changes, or job deployment.
Apart from the development side, I've been involved in organising our entry to various business events and graduate fairs. This year I've also had the opportunity to lead our charity committee for our 25th anniversary fundraising efforts. Due to the pandemic, we've had to adapt our calendar quite a bit and host various virtual events, but we're still hopeful to run some of our original events such as our 5-a-side competition, even if runs over to our 26th anniversary!
What do you enjoy most about the job?
The team at Covernet make it a great environment to work in, I enjoy the variety of projects my role as a developer entails and there are excellent opportunities for career development.
Who is your role model in business?
I don't have a specific role model. I look up to those who are passionate about what they do, inspire others to succeed and treat others with respect.
What are your greatest passions outside of work and family?
I have a number of interests including sport, music, TV/film and gaming. Football would be the biggest one.
I try to get over to Goodison Park as often as I can to watch Everton.
I'm also a campaign card holder at Windsor Park for Northern Ireland games, where I've got Lee two rows behind, to keep an eye on me!