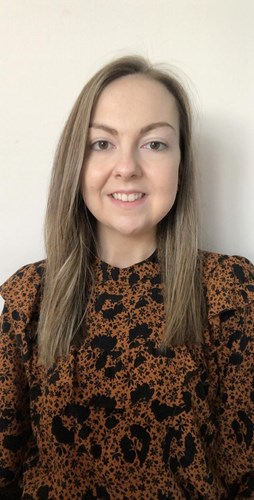 Name:
Gemma Laird
Job Title:
Software Developer
Service time with Covernet:
3 years
Education / Career journey:
I studied an undergrad in Computing with Education at Ulster University in Coleraine, my hometown.  After leaving school I was not sure what career path I wanted to take, and was considering teaching, that's why I minored in Education. Selecting computing was a little bit of a random choice for me, as I dropped IT at school after GCSE. I wasn't sure what to expect from my course but from the very start I loved it. Learning various programming languages was completely different and challenging, but I found it great fun. University gave me a great foundation of skills that I've been able to transfer into my current role in many ways.
How did you become part of Covernet team?
During university I completed a year's placement in an IT support role, from this I knew I would prefer a graduate development role, as it would be more challenging and better suited my skill set. In the last few months of my degree I applied for the graduate developer role at Covernet and secured the position after the interview process. Wanting to stay in my hometown and the great benefits that Covernet offered made it the perfect fit for me.
What does a typical day hold for you?
My day usually starts by logging in and checking my emails to see what my day ahead holds. I will then make a list of the things I need to complete, and prioritise my work for the day. Then I will usually be straight into some development work, be it for a new project, fixing bugs, dealing with customer support queries or some sort of problem solving (which I love). I work closely with my supervisors and customers to ensure that the job is meeting their requirements.
What do you enjoy most about the job?
I enjoy that every day is different as a software developer, as each task takes varying times to complete and pose new challenges. I also enjoy the team we have at Covernet, everyone has always been so friendly and willing to help each other out.  Even though my job role involves a lot of independent work I always feel like I have support there when I need it. I also love that I am still learning on the job every day and have been given opportunities to further my learning and knowledge.
What do you attribute to your career success to date?
I always take a little extra time to think and consider options when looking for a solution to a problem. The first solution isn't always the best and most efficient! Also not being afraid to ask for help when you need it is very important in any role, it helps to bounce off ideas and get a different perspective.
What is your greatest passion outside of work and family?
I enjoy Pilates and dance fitness classes that I do weekly outside of work. Lockdown has given me more time to read and enjoy walks exploring the beautiful North Coast.