2020 was a year that brought unprecedented challenges and change and 2021 has kicked off in the same fashion.
Through the course of the past 11 months, our daily lives and routines have altered drastically, including a significant shift to working from home. Our homes have become classrooms due to home schooling and online learning and zoom dates, quizzes and meet-ups replacing coffee catch ups and nights out. Not to mention social media channels. In 2020 social media users have increased by 10% with a recorded total of 3.96 billion worldwide users actively using social media. What's more, online shopping has rapidly replaced the weekly run out to do the groceries, replenish the wardrobe and stock up on the essentials and non-essentials.
None of the above would be possible without one essential element…..the Internet! It may only be 37 years old however can any of us remember a time without it? At Covernet, all our systems have been web based since 1995, so our customers were able to keep working no matter where they were based.
It also means we are very aware of the potential dangers of working online. We consider it our highest priority to keep our customers' data and online activity safe and secure. That's why we are ISO 27001 certified and build information security as a standard into all of our processes, and applications.
As today is national Safer Internet Day we have provided some tips and reminders on how everyone can improve their online safety, whatever the purpose of their browsing.
Working from home

Use strong and secure passwords.
As mentioned previously it is vital passwords are regularly updated as created as securely as possible. Strong passwords are harder for hackers to break; therefore, this is why you will always be prompted to make sure passwords are made up of up to 12 characters with letters, numbers and symbols. Also try to avoid using the same password for accounts.
Make sure your WIFI is secured.
Today majority of us will have secured Wi-Fi connections, this simply means you have a password protection for anyone looking to join your network. You can also change your SSID, this is the name of your Wi-Fi connection, do not use your family name, address or anything that can easily identify you/ your home.
Keep antivirus up to date
This is one of easiest and most common method used. Therefore, taking the hard work away from you, antivirus software will automatically scan your computer / laptops, reducing threats of hacking or fraudulent behaviours. You should also ensure your operating system has the latest updates installed too.
Your work IT dept will make sure the latest version of antivirus is installed on your computer / laptop. This is vital you remember to update this when prompted.
Be careful with downloads.
Make sure to carefully read the information disclosed when downloading programmes and software. If your company has an IT dept run passed any downloads with them before you do so. Think before you click!
Look out for SPAM emails.
As we communicate a lot more with our colleague via email, we must be sure we keep on top of emails arriving into our inboxes and pay attention to any that appear fraudulent. If you suspect an email may not be from the recipient it claims to be, do not open or click on anything. Notify your IT dept who will investigate it further and advise next steps.

Be careful with your personal social media channels.
Majority of us are probably active on some form of social media channels and now in Lockdown 3.0 our usage has most likely increased as we stay connected with friends, family and even colleagues. 43% of social media users admitted they spent more time on their social media accounts during the pandemic. In 2020 the average global user reportedly spent 2 hours 29 minutes on social media and apps every day. Compared to the UK users total of 1 hour and 50 minutes in 2019. It is always advised to be careful with what you post on your channels especially when associated with a company brand. Most companies will have policies and conduct of social media usage in place that must adhere to by all employees. In addition to this it is a welcomed reminder to always be mindful what you disclose and say online.
Shopping Online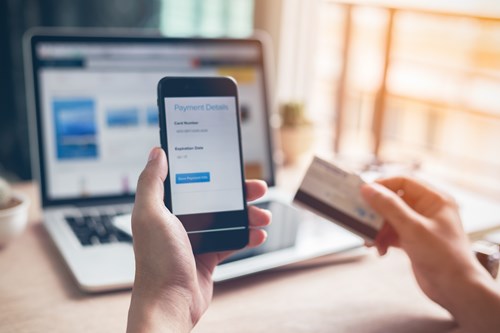 Regularly update passwords and use strong passwords.
We know it can be frustrating trying to create and remember passwords, but it vital you keep updating passwords. It is also important to create strong passwords. You may think your passwords are strong, but a strong password is made up on up to 12 characters consisting of letters, numbers and symbols.
Only purchase from familiar reliable sites.
Now living in a very technically advanced world where target advertising and marketing is very active. You may have recognised if you once searched for a certain item you are now being targeted with similar products and websites; some brands you may have heard of others maybe entirely new. In this case it is always recommend you research the brand and checked out the website, read the company policies and returns system before you make a purchase. You do not want to become victim to online fraud.
Use credit cards as a payment if you can.
If you can use a credit card as a payment method it is recommended, particularly when purchasing high valued products. Some visa company automatically grant added support for pricing protection, purchase protection and warranty protection which basically means by using a credit card it could be a lot easier to dispute payments / orders.
Be aware of spam emails dropping into your inbox.
Due to the current COVID-19 environment we are all likely to be more dependent on online shopping than ever before. With this said you may receive a lot more sales and marketing emails, a lot will be purely marketing purposes only but there can be occasions SPAM emails fall into your inbox. If the offer seems too good to be true it probably is.
Despite the key points to reminding safe when online, we could not live a day without internet, and we continue to become more dependant online.
Stay safe online and share any tips with your friends and colleagues.