We are delighted to have been recognised in the 2023 UK's Best Workplaces™ in Tech as awarded by the Great Place to Work™ UK Institute.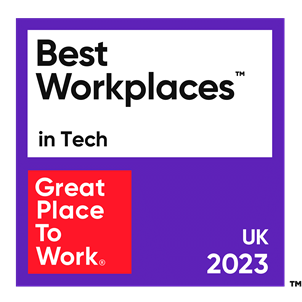 For the third year running, we have been awarded the accolade and are delighted to share this year we have also been named as one of the Top 5 Achievers in the small category. The UK's Best Workplaces™ in Tech showcases the largest collection of businesses ever recognised. The Institute acknowledges the importance of innovation and career growth for employees in the technology industry and prioritises the wellbeing and work-life balance of employees to provide positive experiences at work.
Covernet's success has always been driven by their dedicated team who continue to embody the values which their customers have come to know them by.
Lee Stuart, Managing Director of Covernet said: "We are absolutely delighted to have made the UK's Best Workplaces™ in Tech and to be named as one of the Top 5 Achievers in the small category. Our position on this prestigious list is driven by an annual people engagement survey which measures the extent to which everyone in the organisation reported a consistently great workplace experience. To receive this accolade for the third year running recognises Covernet as a great workplace where people are proud of the work they do and enjoy working in the technology industry. We recognise the importance of our team's wellbeing and work-life balance to provide positive experiences in the workplace. Thank you to everyone who has helped us achieve such a great workplace culture."